Adopting a social cause as the theme for your corporate event can be powerful and memorable.
Hosting a corporate event presents a huge opportunity to increase brand awareness, make sales, create engagement and improve relationships, and get a positive ROI for your money spent. It's imperative that you create a unique experience for your guests, so you are not wasting your money on another boring corporate party!
Some of the world's most successful brands do an amazing job of creating unique experiences for their guests; so we've put together a list of our top 12 to give you inspiration for your next corporate or branding event.
1. Adobe MAX Corporate Event
The annual Adobe MAX conference is a celebration of creativity and so is a great example to kick off our list. Last year's event featured a 3D selfie creator booth, a station for designing mobile apps, and even a giant Lite Brite. This giant board game was based on the original by Hasbro and offered visitors baskets of coloured pegs with which to write messages or create pictures on an illuminated wall.
Key takeaway: cutting-edge technology can be used to both impress and entertain.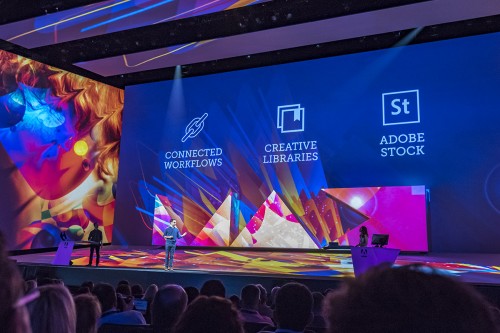 2. Virgin Media's Halloween Party
Virgin Media are well known for being a fun and innovative company and Halloween is a great excuse for a party; two factors that made this 2011 corporate party a huge success. The company hosted a "Trick or Cheat with TiVo" quiz, along with bartenders in convincing spooky costumes and Halloween-themed snacks. This quiz, hosted by Paul Daniels and Debbie McGee, was performed using the Virgin Media TiVo interface, and managed to weave in selling points of the system alongside horror trivia.
Key takeaway: corporate parties don't have to be dull – have fun and don't take yourselves too seriously.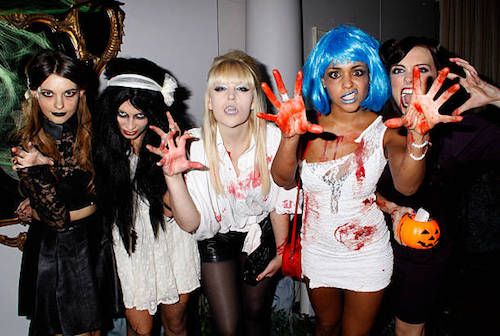 3. LinkedIn's Ice Cave Conference
When LinkedIn hosted Talent Connect – the three-day conference for recruiters and talent professionals – in 2013, they created a cave out of real ice for relaxing and networking, complete with yetis and arctic explorers.
Key takeaway: have a fresh think about your corporate event venue and what you can do to make it a talking point and memorable for attendees.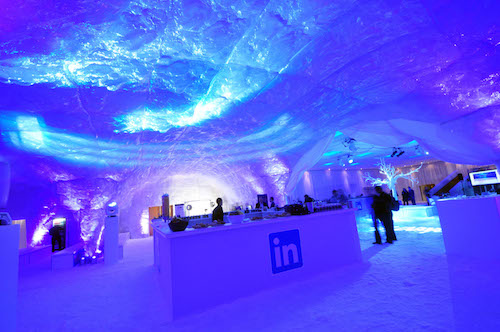 4. Google's Carnival Corporate Party
Google City Experts are volunteers from all over the world who contribute their time, free of charge, to improve information about local businesses and locations listed on Google. To thank these people for their time, Google hosted a carnival-themed appreciation event complete with fun games and food. Guests let loose playing traditional games such as ring toss, hook-a-duck, and coconut shy, and got to live out their childhood dreams by helping themselves to a selection of candy displayed on a giant cake.
Key takeaway: a corporate party isn't all about your business and brand– it's also to show thanks and appreciation to the people who work for you.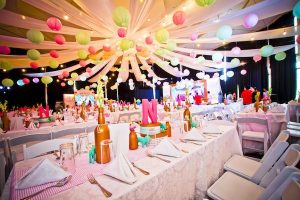 5. Fox Upfront's Corporate Party Balloons
At the after-party for Fox Upfronts presentation and media event, they decorated a path in Central Park with giant illuminated balloons with the names of some of their best-known shows, providing a unique and memorable alternative to traditional signage. Guests walked along the path on their way to the after-party at the Wollman Skating Rink. The balloons not only acted as guideposts for attendees of the party, but were also seen by thousands of people and successfully generated some hype for new shows as well as reminding the crowd about their old favourites.
Key takeaway: use styling and decoration as a way to show off your brand.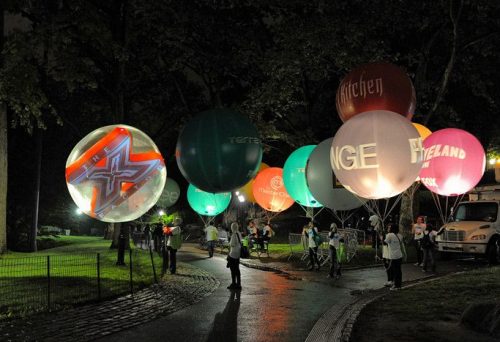 6. Samsung's Interactive Art Installation
At the annual music and media festival SXSW, Samsung hosted an interactive "Dream Tweet" art installation in which tweets with a particular hashtag were projected onto the wall to form a constantly evolving piece of art.
Key takeaway: create a hashtag for your corporate party or event and make the most out of social media.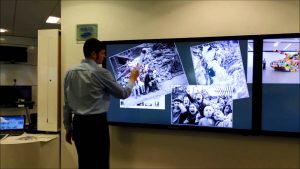 7. Always Digital Graffiti Wall
The Always #LIKEAGIRL campaign aims to turn the meaning of the phrase "like a girl" on its head and show girls they can do anything. At their Unstoppable Confidence summit, attendees had the opportunity to write inspirational messages, which were projected onto a wall.
Key takeaway: adopting a social cause as the theme for your corporate event can be powerful and memorable.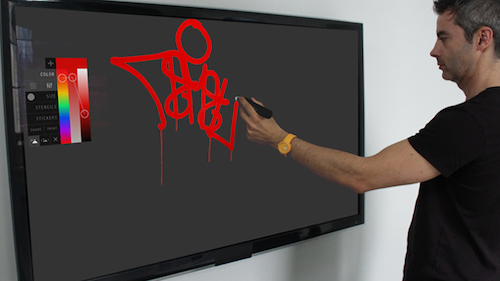 8. Food Network's Edible Chandeliers
For the 20th birthday party of the Food Network, various installations made of food were part of the décor. These included a macaron chandelier and an ice oyster bar.
Key takeaway: think creatively and out of the box when it comes to styling your corporate party.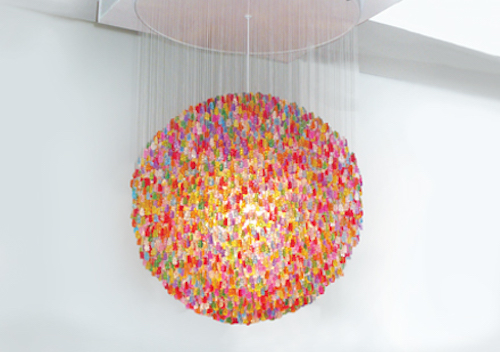 9. Fox's Outdoor Cinema
To promote their new documentary series, "Cosmos: A Spacetime Odyssey", Fox set up an outdoor cinema in a car park complete with thousands of overhead LED lights to make attendees feel like they were in the middle of space surrounded by stars. The first episode was premiered and followed by a Q&A session with the hosts of the show.
Key takeaway: the lighting at your corporate party has a big impact on the overall effect.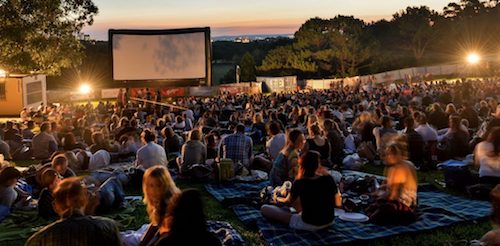 10. Puma's Spinning Competition
Puma set up an incentivised spin class in their SPINSTAR challenge, in which participants could win Puma branded workout clothing and sneakers if they lasted at least two hours on the bike. Those who lasted the longest had the opportunity to go to the final for a chance to win $25,000 cash and $10,000 of Puma products.
Key takeaway: competitions and prizes can make a corporate event more fun and memorable for attendees.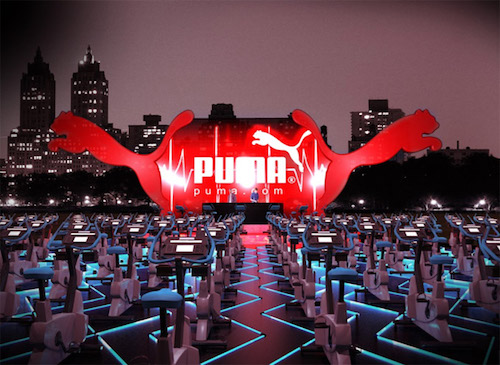 11. BMW's Lolly Logo
At one of BMW's annual corporate parties, they recreated the brand's iconic logo out of blue, white, grey, and black sugar-coated chocolate candies.
Key takeaway: an edible version of your logo is an easy and fun way to make your brand more memorable.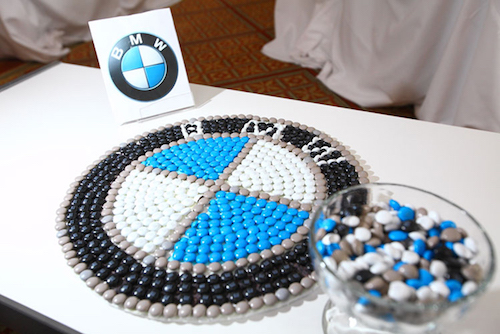 12. TEDxSomerville's Beanbag Seating
Forget rows of uncomfortable plastic chairs – the team at TEDxSomerville opted for an alternative and more comfortable solution by providing large cushions and beanbags for attendees to lounge on while they listened to speakers.
Key takeaway: think about providing alternative seating solutions for your conference or corporate event.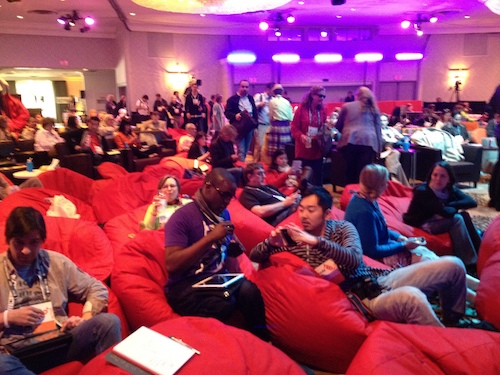 You May Also Like